Ariern Titmus, Sam Short and the women's 4x100m relay medley team won more gold for Australia as Commonwealth Games swimming came to a close in Birmingham. A hugely successful campaign in Poole ended with a treble win on Thursday morning AEST, taking Australia's gold tally to 25 at the final count.
Australia's Kiah Melverton claimed bronze after Titmus edged out 15-year-old Canadian star Summer McIntosh in the women's 400m freestyle – in addition to the 21-year-old's seventh Commonwealth gold, two Olympic golds and two world titles. In a thrilling race.
At the World Championships in Budapest, McIntosh declared himself a star of the future, winning the 200m and 400m individual events at the meet. A night after winning the 800-meter freestyle, Titmus — who beat American champion Katie Ledecky at the Tokyo Olympics — clocked 3:58.06 to beat McIntosh by just one second. She also won the 200m freestyle.
Her latest success came after Short's sensational swim to win the 1500m freestyle gold, continuing Australia's rich tradition in endurance racing. The 18-year-old won a thrilling race in 14:48.54, just three seconds ahead of Northern Ireland's Daniel Whiffen, with England's Luke Turley third.
In the finals of the swimming competition, the women's 4×100 m relay medley team defeated Canada, England won bronze to give Emma McKean her sixth gold medal of the Games, but the men's team was disappointed, beaten by England. Kyle Chalmers took silver.
100m freestyle heroine Molly O'Callaghan beat Canadian world champion Kylie Massey by just 0.16s in the 50m backstroke. Masse, a four-time Olympic medalist, rallied late to win in 27.31 seconds and Kelly McKean continued her impressive performance to win bronze.
In track and field, Brandon Starc failed to defend his Commonwealth high jump crown as he settled for silver behind New Zealand's Hamish Kerr, with both men clearing 2.25m.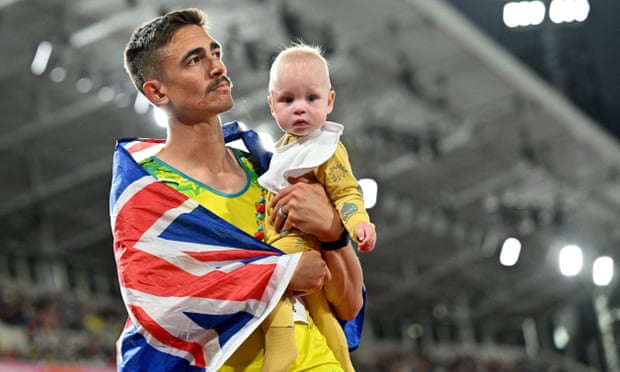 Evan O'Hanlon defended the T37/38 100m title he claimed four years ago on the Gold Coast with a time of 11.23s, while Australia's paceman Rohan Browning finished sixth in the men's 100m final.
Resilience has been a hallmark of Peter Boll's extraordinary life and the Australian athlete will not let an injured ankle derail his Commonwealth Games dreams. The 28-year-old, whose family fled Sudan's civil war when he was four, has dealt with the stress of competing against the best in a grueling event over the past decade.
A case in point is his fourth place finish at the Tokyo Olympics last year. Most recently, there was a deflating seventh place finish at the World Championships. On Tuesday, when he sprained his ankle ahead of his appearance in the 800m heats in Birmingham, Boll would have been forgiven for fearing the worst.
Instead he focused. He iced his ankle. Keep your feet up. Re-ice the joint. And again. It was a professional approach to panic. He planned to fight despite the injury. But until Wednesday morning, he wasn't sure he'd produced his best. Walking 800 meters on an ankle is painful, let alone walking. But Boll did it in style, clocking 1:47.01 to qualify fastest for Sunday's final at Alexander Stadium.
"I rolled my ankle yesterday and was limping on the way back and today I'm completely fine, so big thanks to the Athletics Australia medical team," he said. "I wasn't playing basketball, I promise. I just rolled it onto the curb at the track. This is the first time this has happened. The night was getting better and then in the morning I was like, 'Bam. I'm ready to go."
The ease with which they claim heat is proof of this. Boll overtook Kenya's Cornelius Tuwai, who has a faster personal best than the Western Australian, before sending him cruising along for the first 550m.
"To be honest, I felt relieved and I was very happy about it," he said. "It was great to come back from Worlds, because it was a disappointing final, so to come back here and be in amazing form and finally switch off like that is amazing."
After losing to India in the quarter-finals in Tokyo, Australia have a chance to redeem themselves in the women's hockey semi-finals in Birmingham on Friday. The Hockeyroos maintained a perfect record in their pool with a 2-0 win over Scotland, while India had an impressive 3-2 sudden-death victory over Canada.
Also maintaining a perfect record of reaching the medal round was the Twenty20 women's cricket team, who performed brilliantly in their maiden Commonwealth tournament. Beth Mooney's unbeaten 70 off 49 balls and Tahlia McGrath's unbeaten 78 off 51 balls led Australia to a total of 160-2 against Pakistan.
The Australians will learn their semi-final opponents after the match between England and New Zealand on Thursday.
In other action on Wednesday, Zoe Cuthbert became the first Australian to win a medal in mountain biking when she finished second at Cannock Chase Forest, north of Birmingham. The 21-year-old finished 47 seconds behind England's Evie Campbell but showed she is a star of the future with both her skills on the bike and her composure and awareness in the race.
Australia's oldest competitor Cheryl Lindfield, 63, has become a hit in the athletes' village where she lives, particularly as she shines in the women's rugby sevens team. Lindfield and her partner Serena Bonnell enjoyed a successful campaign at Leamington Spa, winning a silver medal in the Para Women's Pair (B6-B8) Lawn Bowl.
The Australian team were eventually beaten 17–5 by Scotland, marking the nation's second loss to Scotland in the finals in as many days. "We were the underdogs," she said. "We are very happy about that. Tomorrow we wake up with silver… so how good is that?"
Karishma Amoah Tarrant did well in weightlifting to win the bronze medal in the women's 87kg category, beating England's Emily Campbell, setting a new Commonwealth record.