When she woke up one morning in February to find her dogs barking and her husband crying in front of the television, Marina Stryletska's life took a turn for the worse.
"I will never forget that moment," she told BBC Sport. He was watching the news with tears in his eyes and said 'the war has started'.
One of Ukraine's top assistant referees, Stryletska made history just four months ago as part of the first all-female team to oversee England's men's international competition.
But the world seemed to be far away when military vehicles moved through Gareth Southgate's side and Minoj Andorra's World Cup qualifier at Estady Nacional, 19 miles from the Russian border.
"On the first day, trucks and military vehicles arrived 24 hours a day," she recalls. "The Russian military was friendly, asking us for directions to Kiev.
"They thought we needed help, brought flowers and bread, but a week later they realized we didn't need it. Then they got angry and started firing at civilian cars and I thought maybe I should leave."
Eventually, Striletska did just that, packing her luggage in just one bag and heading for the hard way to safety in Switzerland.
Since then, the 38-year-old has returned to the Swiss men's third division as an assistant referee. Next month, she arrives in England for the Women's Euros.
The referring family has given a lifeline to the Ukrainian Trailblazer. But now, speaking on the zoom from the bedsheet she shares with her daughter Eva in Basel, she says her outlook on life has changed forever.
'Referee world is like a big family'
Growing up in Luhansk, Stryletska was more interested in athletics than football as a teenager, but she combined the two at university and played for six years after graduation.
"I was running like a crazy horse because I was doing athletics," she says. "I wasn't that good at ball, but I love running!"
The former midfielder was inspired to make a new use of her athleticism in 2006, when the Ukrainian FA sought to appoint female referees in every 24 regions of the country.
"At that time, we had 10 girls in Ukraine, so each federation decided to find a girl," she says. "They asked me and I wasn't so happy at the time, but I tried."
Today, Stryleska is one of the few Ukrainian women officials, including Katerina Monzul, the country's first female referee in the men's Premier League.
Stryletska has assisted Monzul in the Women's World Cup, the Olympics, the Euros and the Champions League, as well as the Men's Europa League, the Nations League and the European Under-21 qualifiers.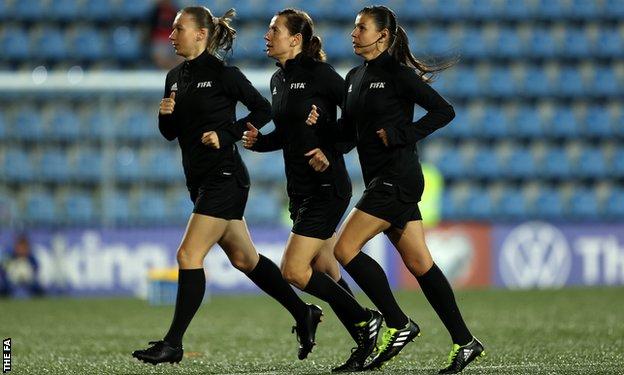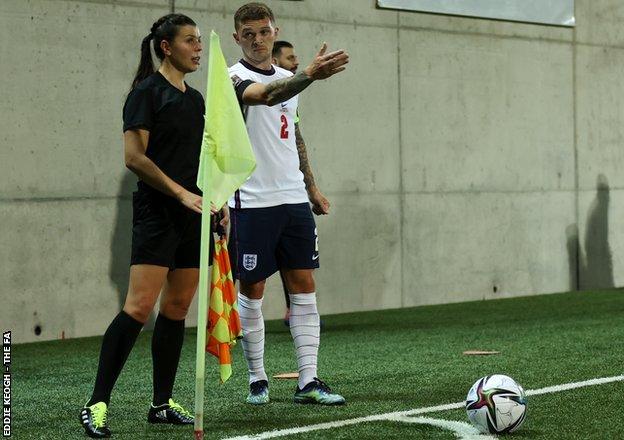 "This is our team, Katrina, me and Alexandra [Ardasheva] Or Svitlana [Grushko]"It's a small team, a small family," she says. It's really like sisters.
"But now, since the war started, I see the referee world is like a big family and I think I'm a part of it; I want to help people."
'I cried every day for three weeks'
It was mid-March when Stryletska finally decided to flee war-torn Ukraine, following the advice of her sister in Switzerland.
The domestic life she knew – coaching weekends and two girls' teams working as an assistant or video assistant referee in the Ukrainian men's Premier League – was already over.
But the constant fear of being bombed by planes flying down and they were roaring at her house and worrying about the safety of 11-year-old Eva was growing.
So Stryletska drove to Poland in a car with her daughter, a friend's wife, and their two children, sitting on wheels for hours to break the night curfew.
"It was difficult because all the road signs were removed," she says. "We had to hide in a village on the journey while waiting for the tanks to leave.
"Once we went to a church and slept on the floor, I had been driving for 18 hours and I just wanted to sleep. At 6 in the morning we would start again.
"It took me four days. We were queuing for 17 hours after arriving at the border, but then it got easier – I thought we were safe."
Stryletska can only hope that her husband and fellow football coach Sergei will be safe because he had to stay behind.
"He will protect our home because this is the second time for us," she says. "We used to live in Donbass and in 2014 we lost everything and I never saw my parents before their deaths."
Reunited with her sister in Switzerland, Stryletska initially thought of her husband and nothing but war, but football gave her an outlet.
"For three weeks I cried every day," she says. "I was forgetting that I was in the world of football because I was thinking of war. That's why I had to start refereeing."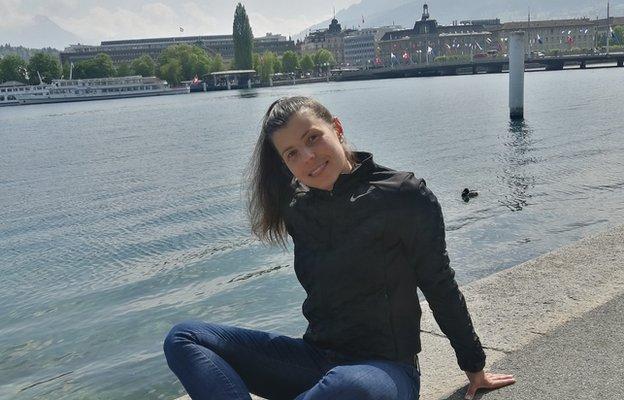 Stryleska says the Ukrainian FA, by offering to help all her referees, contacted their Swiss counterparts on her behalf; They gave her matches in the men's third division Swiss promotion league.
"I am very grateful for this because the Swiss Federation has given me so many games," she says. "It helps because for at least two hours I can forget the war and just see the defenders, the attackers, offside!"
'Enjoy this moment'
Since her daughter settled into school, Stryleska has been spending her days after her FIFA fitness program and learning German.
"Switzerland is doing a lot for the Ukrainian people, all the museums, trains, buses are free for us," she says. "I can't really thank this country, they have also organized a free language course for us."
Despite her gratitude, Stryleska is desperate for a quick return to her homeland. Right now though she stays in touch through the internet.
"Now that our territory is more or less normal, the Russians have moved to the Donbass and to the east," she says. "Sometimes my husband says he can hear the explosions, but not like before. Work is also started in our sports hall and I am doing online training sessions with the girls."
Another morale booster is Monzul, along with a call-up for another women's euro, who has also left Ukraine and has since been referred to the women's Serie A in Italy.
"I'm really glad to hear about the euro," says Stryleska. "It's an incredible feeling. I can forget the war and I'm looking forward to working together again."
The duo will play Arsenal's Danish team in the last Champions League in Borhamwood, UK in November, for HB Koge's tie, followed by England's participation in the Women's World Cup qualifier with Austria at the Stadium of Light.
Since then, Stryletska's life has changed beyond recognition, and her values ​​have changed.
"After that I realized you didn't need much in life," she explains. "Money is not important, the most important thing is the relationship between people.
"People are helping me, talking to me, bearing fruit for my daughter, small but useful things and these things are important in our lives.
"We're always trying to reach heights, to work hard, to buy things, but really, you need to enjoy that moment."